Invisible but essential to the global recycling industry, the cardboard collectors of Miami-Dade earn a living by breaking down each piece of cardboard by hand, with no guaranteed income or labor protections.
---
This story was made possible by Altavoz Lab, a palabra project that supports community journalists investigating accountability to serve immigrant, Latino, and other populations that are underrepresented in the media. An original version of this story is copublished by Itempnews Project and Diario Las Américas.
---

Edited by Ruxandra Guidi
Translated by Conchita Delgado
Photo editing Ginle Cubillas
---
Every day, at 8:00 a.m., Micaela Colmenares' rickety Chevrolet pickup appears on Southeast Miami's 30th Avenue. From there, it drives deep into a maze of streets, stopping in front of dozens of recycling bins outside restaurants, markets, grocery stores and small businesses. Each bin is filled to the brim with cardboard.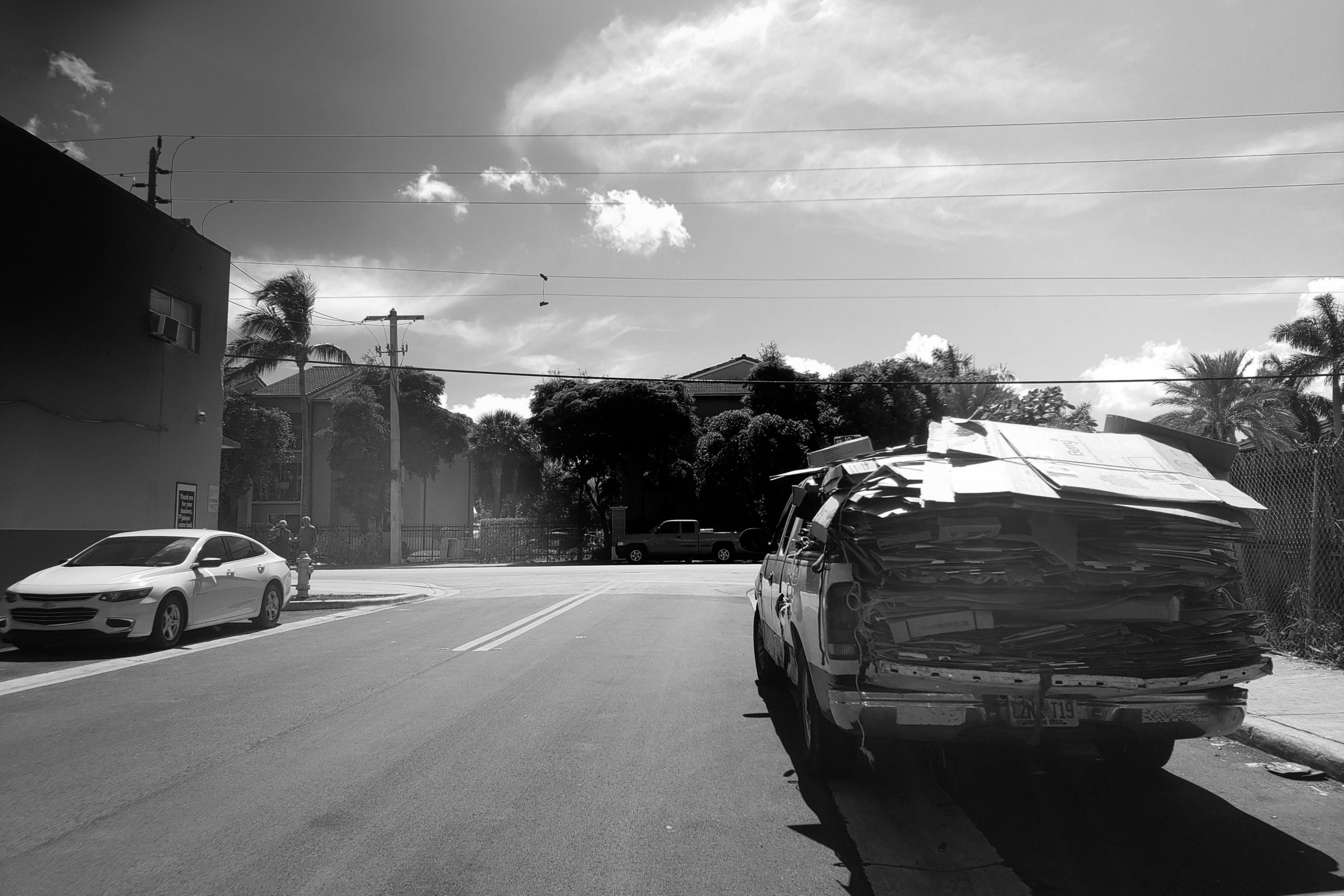 Thus begins another workday for this 64-year-old Mexican woman and many others who drive dozens of miles across Miami-Dade County and beyond hoping to find the highest volume of scrap cardboard.
The amount cartoneros (cardboard collectors) get paid depends on the global market or, ultimately, the buyer. On a fine day, Micaela can earn up to $100. However, in Florida — as well as almost every city and state nationwide — these workers are the least favored link in a long recycling chain.
Cardboard collectors, mostly Latino immigrants, have been a quiet driving force in Miami-Dade's recycling scheme for years. Without them it would be difficult, if not impossible, for the county to address the enormous volume of scrap cardboard and scrap paper that's regularly discarded by thousands of businesses.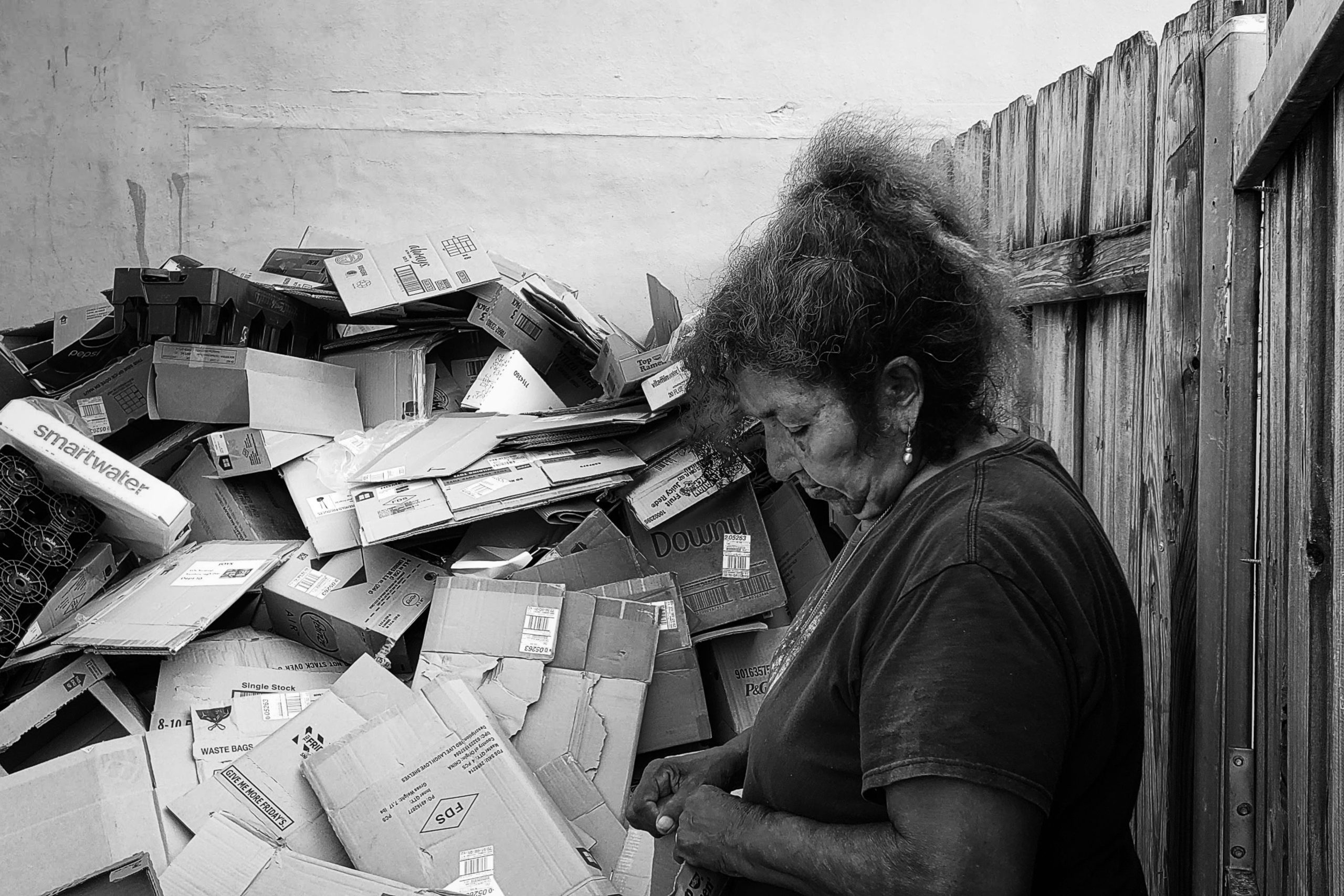 Paper mills pay the collectors in cash, but the real profit depends on the quality of the fiber—its thickness, how wet the cardboard is, or the size. The thicker the cardboard, the more valuable it is.
For months, Itempnews Project surveyed and interviewed more than 30 cardboard collectors. Some of them have been collecting scrap cardboard for over a decade in Miami-Dade and Broward, the two largest and most populated counties in South Florida. Despite years of dedication to the trade, their clandestine work remains on the fringes of the cities' recycling and refuse systems.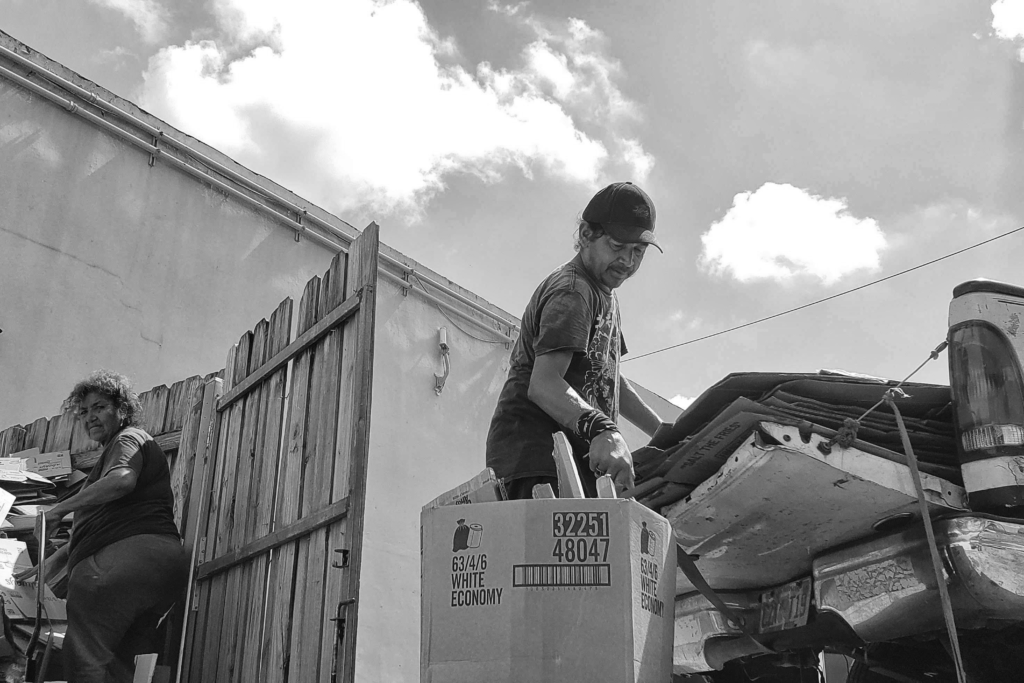 It comes down to weight
Marcelino Pereira, 65, gets up at 4:30 a.m. By the evening, he will look at the load to figure out if his labor was worth it. He will earn about $100 for at least one ton.
"It's hard work, very hard, with lousy pay, but someone has to do it," he says, tearing apart rectangular boxes that once held flowers. Marcelino emigrated from Cuba in 2012. Once a week, he collects cardboard from a flower shop on the outskirts of Miami-Dade.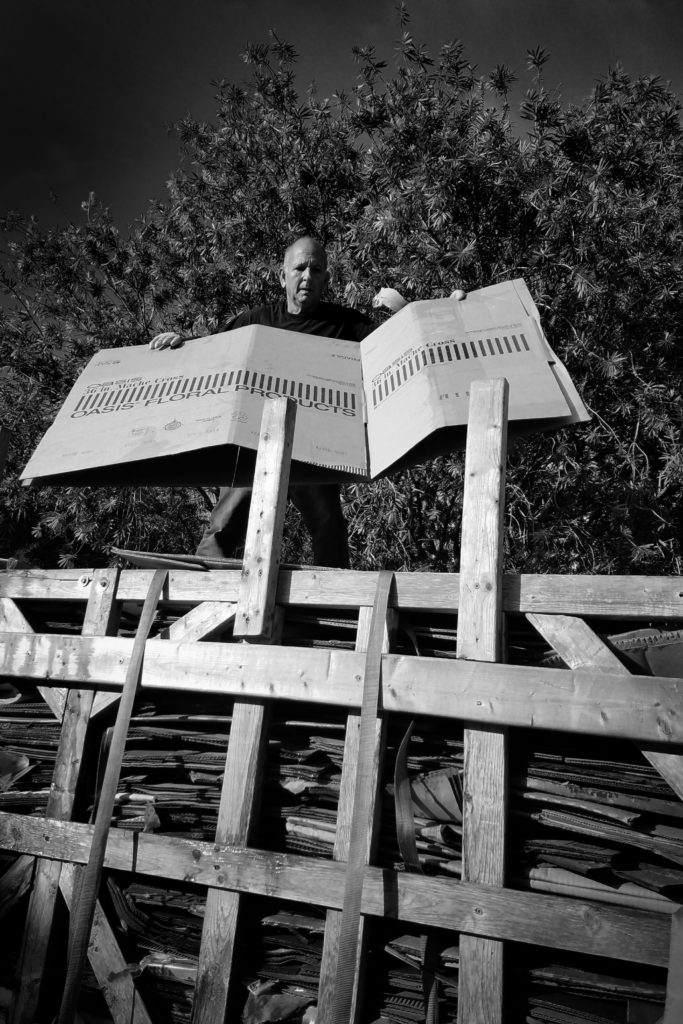 Between August 2021 and 2022, the average value of a ton of corrugated cardboard was worth $150 on the East Coast, according to a database created by a commodity pricing index Recycling Markets. That is five times more than the $30 it fetched back in March 2020, at the start of the Covid-19 pandemic. This October, a ton averaged $50.
"The pandemic? That was horrible, horrible, horrible!" says Oswaldo recalling those early months of the lockdown. Back then, jobless, he ate canned food given to him by fellow Hondurans, and relied on food donations from a church in North Miami for several weeks. Like other interviewees, Oswaldo declined to give his last name. The cardboard he managed to get his hands on, "didn't even reach $10 a month, because there was simply nothing to pick up. Everything was closed. That was scary," he confessed.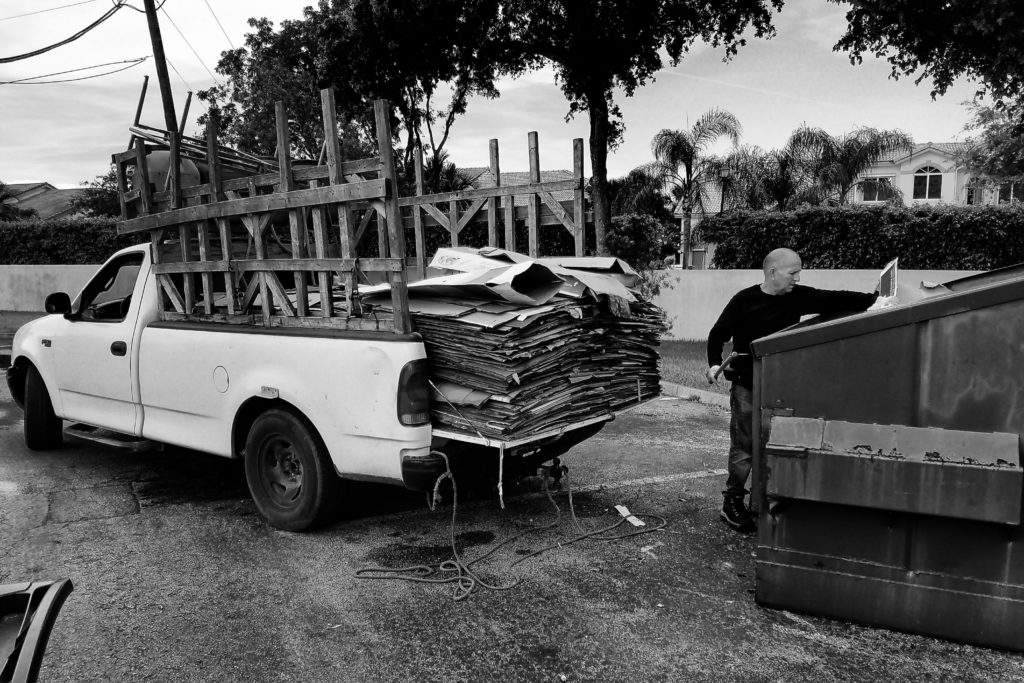 Every Monday, a line of old vans like Oswaldo's, Marcelino's and Micaela's, patiently wait their turn to enter the Gorgy Recycling Company, one of ten private cardboard recycling sites in Miami-Dade County. Last June, the cashier there paid $120 per ton.

"Raw materials go up and down, so we can see different prices all the time," said Victor Storelli, a solid waste expert whose family has been in the business since 1912.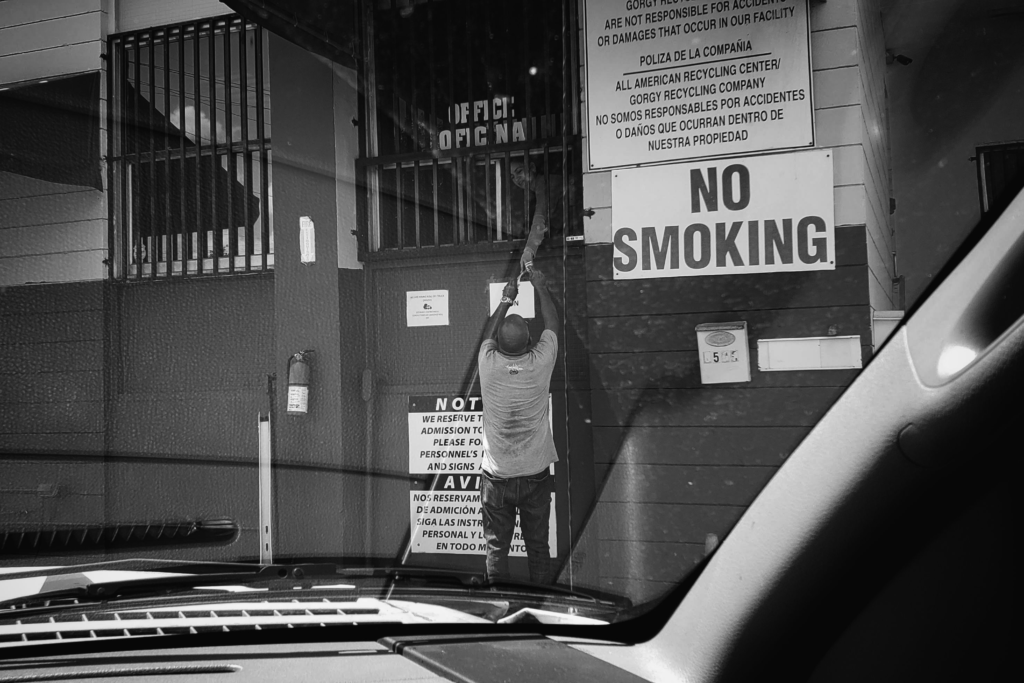 Paper mills set their own rates. Some pay $100 per ton, others pay no more than $70. Pricing also changes depending on the region. It's higher on the East Coast than on the West Coast. In these places, loose cardboard is compacted into bales, because recycling sites can pay 30% more for cardboard in bales compared to loose cardboard. That is where the profit is made."This is because baled cardboard takes up less space and is ready to be processed by the recycling machine," explains Simone Nulli Rinalducci, a British aerospace engineer who created Sustainability Success, a website that teaches companies about sustainability.
The process is simple: The cardboard is put into a hydraulic press that crushes the material. Once compacted, it is manually tied. The final bale saves space and is ready for recycling.

But there's nothing efficient about the way these cardboard collectors operate, and what it takes for them to collect hundreds of pounds of old boxes a day, sweating in the unrelenting Florida heat as they strain their hands and arms to tear apart each cardboard. Their reality has been ignored and even downplayed for years by Miami-Dade residents and officials.
Cardboard collectors receive no welfare benefits, bonuses or overtime pay, and a single work day can yield, with luck, the equivalent of eight hours of minimum wage pay in Florida. That's about $90. If at the end of their day they have not made that much profit, they often go in search of additional cardboard boxes or find other work.
The U.S. Bureau of Labor Statistics (BLS) has no specific wage data for cardboard collectors. Their trade, however, is referred to as "refuse and recyclable material collectors."

The average annual wage for 57,000 refuse collectors nationwide was estimated to be $39,590 in 2019, $10,000 higher than it had been the decade before. These wages always depend on their immigration status, and on their state of residence. Miami-Dade cardboard collectors tend to make less than the national average.
"If I make the ton, I can make about a hundred dollars. It will depend on the market price that day. Sometimes the ton is worth $60, or $30," Marcelino says. "If the price is low, I keep the truck (loaded with cardboard) until the price goes up. I'm not going to give my work away to the compactors."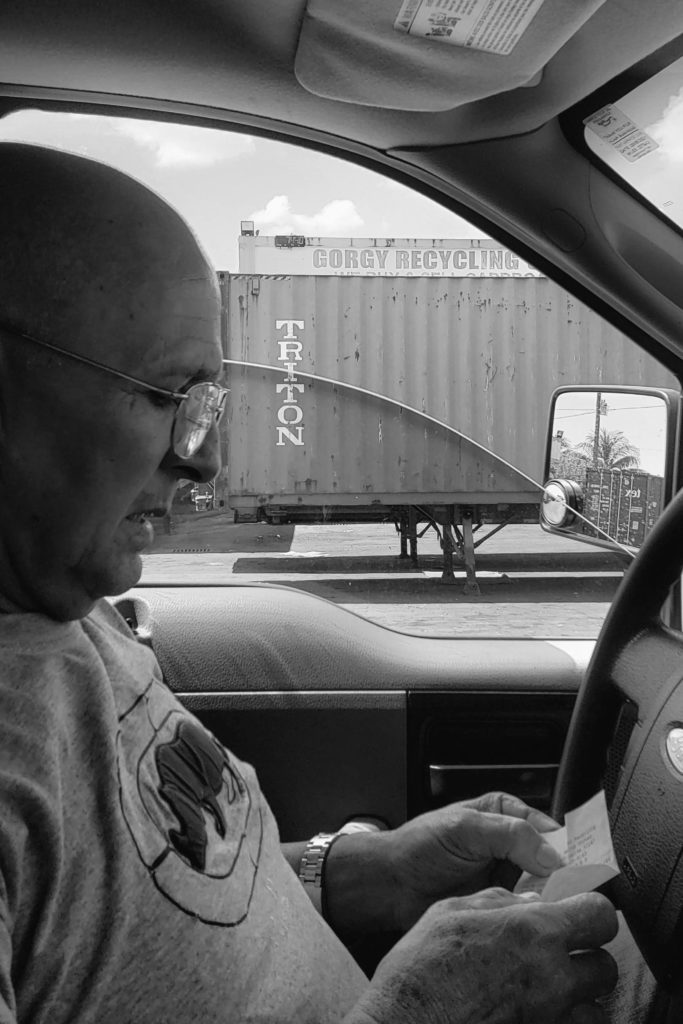 It all comes down to weight. Cardboard collectors enter the paper mills on their trucks or trailers and pass through a certified scale that weighs the vehicle. Next, they unload and go back to the scale. This tells them the weight of their haul of cardboard.

"When you load your trunk, you don't know for sure if you have 1,000 pounds or 4,000 pounds," Storelli says. "Then you go to the scale and it's 6,000 pounds, but they'll only pay you for about 4,000, because the paper mills don't know if the cardboard is wet — which increases its weight — or whether the load includes other things meant to fool the scale."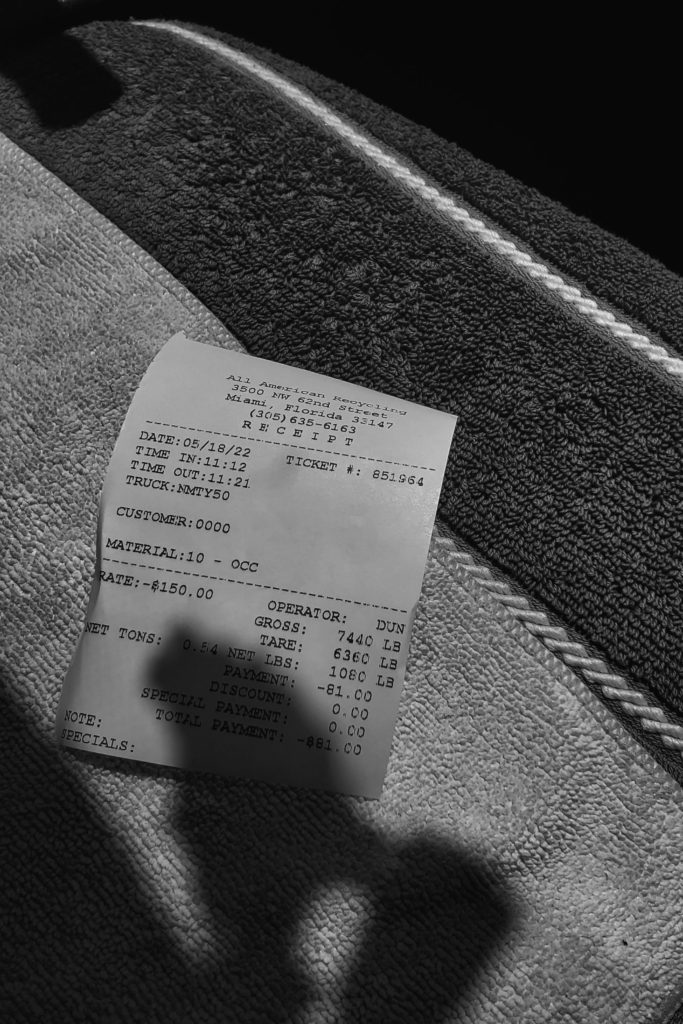 Managers at the two largest recycling plants in Miami-Dade, including Miami Waste Paper, were asked to clarify this process but declined to answer questions.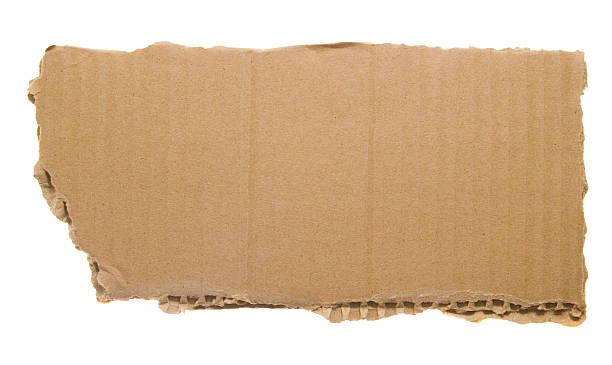 Ignoring the laws
Two strongly-built women queued outside the Gorgy Recycling Company on a Tuesday last July, waiting their turn without looking up from their cell phones. The Nicaraguan-born sisters have been driving around the county in search of old cardboard to recycle for the past ten years.
"The hardest thing is the sun, the heat that burns you," said one of the women. "That's why I cover myself entirely with long shirts and drink plenty of water. That's the secret."

"Today the truck is pretty full, we haven't unloaded since Friday," her sister added.
According to the Florida Department of Environmental Protection, residents and tourists produced more than two tons of municipal solid waste (MSW) per capita in 2020. This is much higher than the national average, which is nearly a ton per person per year. In addition, Florida's recycling efforts are not easily comparable to those of other states; the state uses no standard methodology to meet its recycling goals, according to the state agency.
Another complicating issue is that laws are not really enforced.
The Code of Ordinances of 1992 of Miami-Dade County states that business owners are responsible for managing a recycling program, using the services of a licensed hauler or private recycler. Homes and residential neighborhoods have different rules. This is why cardboard collectors refrain from going into these areas, lest they face fines of several hundred dollars.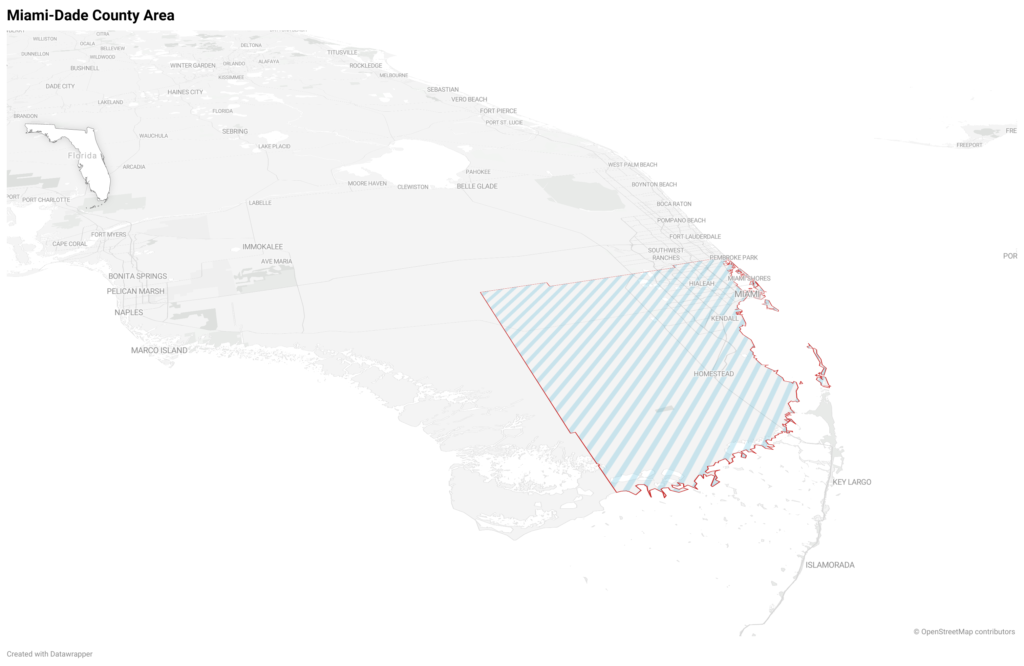 Stores and businesses can collect their recyclable materials and take them to a recycling facility for sale and processing. Businesses who fail to do so are subject to fines that can range between $300 and $950, depending on the square footage of their business. Penalties may be enforced on a daily basis until compliance. However, very few local businesses abide by the rules. Instead, they rely on the cardboard collectors, whom they don't have to pay.
"I prefer to give away the cardboard to those who need it. I'm providing them with a job. It's more beneficial. Everyone wins," says Bryan Chacón, manager of a Latin food restaurant north of Miami, where the owners stopped paying $400 a month for a cardboard recycling bin.
The stores and businesses in this huge and wealthy county, no matter their size or what they sell, have long benefited from lax enforcement.

Business owners would have to pay hundreds or thousands of dollars a year to properly dispose of the huge surplus of used cardboard and paper. Therefore, "giving away" their scrap cardboard saves them money.
For years, the county's Department of Solid Waste Management officials have tried to get informal cardboard collectors to observe the recycling code. They have failed.

"This is not a problem of today; it's been going on for quite a while," admitted Luis Vargas, chief of the Code Enforcement Division at Miami-Dade Department of Solid Waste Management.
The code includes rules for land use, duties and responsibilities of the legislature, procedures for construction, and solid waste management.

"As written in the County Code right now, there are two key things," Vargas confessed. "First, businesses like McDonald's, Dollar Tree and others, must have a recycling program. We are talking about some 70,000 businesses that must be compliant, an extremely difficult task given our scarce staff."
"Then there are the people who are collecting that cardboard. The code also requires that anyone collecting, not just recycling materials, but waste in general, needs a permit from our office to be able to work legally."
According to Vargas, "if the cardboard collectors are taking cardboard from business containers on the street, without county permission," then they can be fined.
To obtain permits, cardboard collectors must pay an annual fee in addition to taking out car civil liability insurance ranging from $300,000 to $1 million. For most of them, these requirements are simply impossible to meet because they are undocumented and can't afford the high cost.
This year local authorities proposed an amendment to the city code to reduce permit fees. As far as insurance is concerned, the holder's regular car policy will be taken into account.
Basically, General Liability Insurance covers bodily damage, property damage, and even reputational damage caused by the business, in this case, by cardboard collectors.
"It is technically impossible to police the cardboard collectors. The city would need hundreds of police officers at every recycling bin," says Storelli.
As a matter of fact, many cardboard collectors do not even have driver's licenses because state law prohibits undocumented residents from obtaining them. The same rule applies to vehicle insurance. Some of them are unaware that insurance is a requirement to drive.
Most of the cardboard collectors interviewed for this story were Latin American immigrants. According to the Census Bureau, nearly 70% of Miami-Dade's 2.7 million residents have come from Mexico, Colombia, Cuba, Nicaragua, Peru and Trinidad. However, when talking about their trade, they will show less concern about their immigration status or how they came to the country, than about having to reveal their collection routes or their daily earnings. If they find boxes, they win; if they don't, they make nothing at all. It's a simple equation.
Florida's 58,000 businesses produce 56% of the state's solid waste, almost twice the volume of the residential sector. Out of businesses' total waste, only 50% is recycled, according to a state report. Data from 2020 suggests that even if the residents recycled all their solid waste, Florida's goal of recycling 75% of its total waste could not be met without the key role played by cardboard collectors. Gathering cardboard has become a regular job for some people, and a source of additional income for others in their spare time.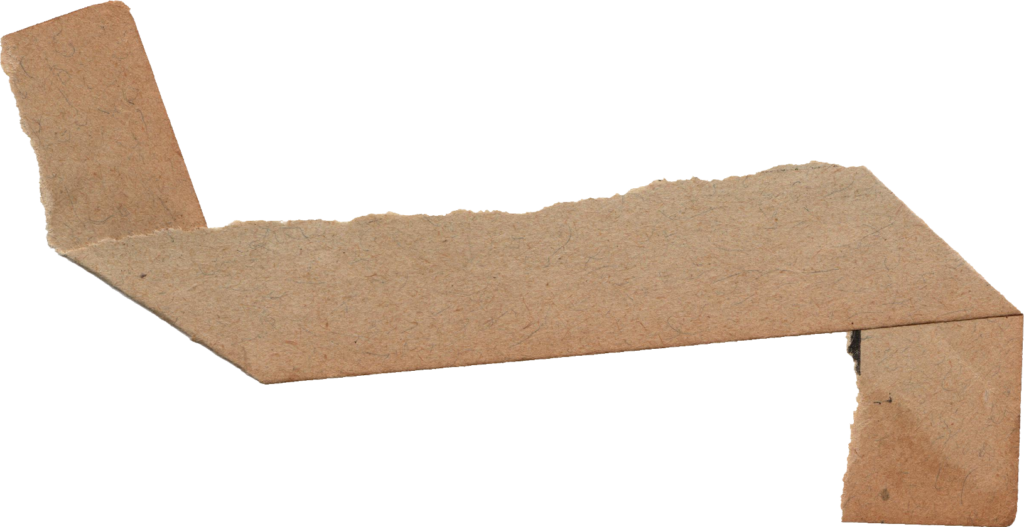 Lots of sun, lots of boxes
Micaela's face is battered by the irrefutable weight of years spent in full sun. Each line that furrows her forehead goes back to the many manual labor jobs she's held over the years.
She is convinced that collecting cardboard has given her the freedom to spend her time however she likes. Every morning, she heads out in the company of two guys — that's how they're able to collect larger volumes of cardboard faster. She shares some of her pay with them, which religiously includes getting cold beers and sodas at 10:00 a.m. to mitigate the heat. "They accept whatever I give them," Micaela says.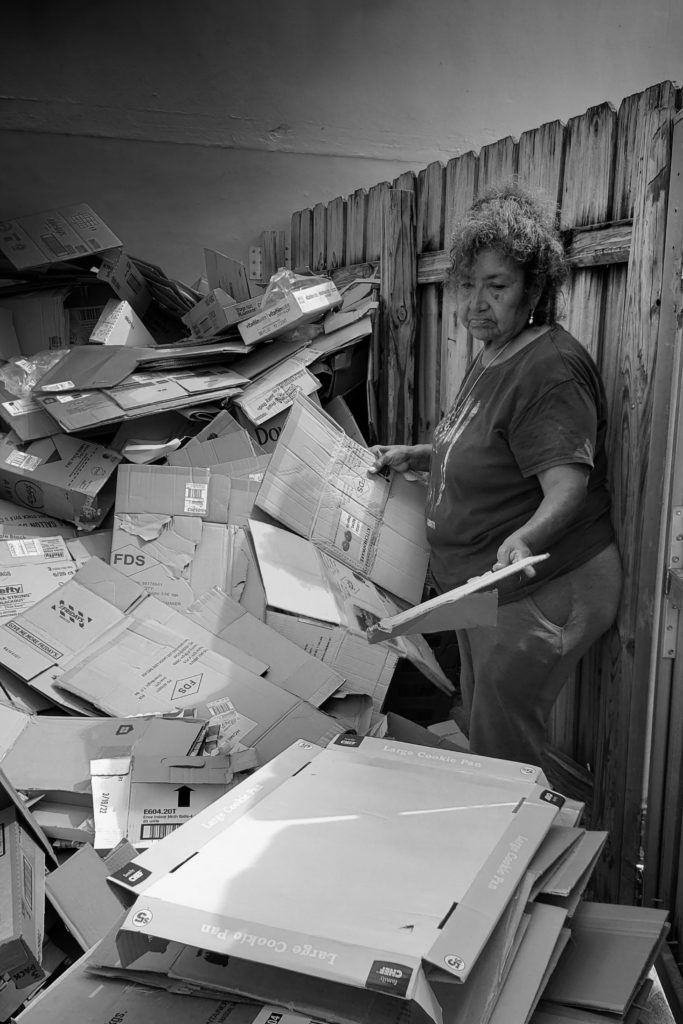 "Micaela is the boss," says Fernando Uioa, a 43-year-old Nicaraguan. He smiles with approval as he tightens a rope around a pile of boxes he's found in a McDonald's recycling bin.
The team starts collecting cardboard at 8:00 a.m. "By 3:30 p.m. it's all over. What was possible that day is enough, I don't get upset," Micaela explains with her usual parsimony and low voice, wiping the sweat off her forehead on a June afternoon.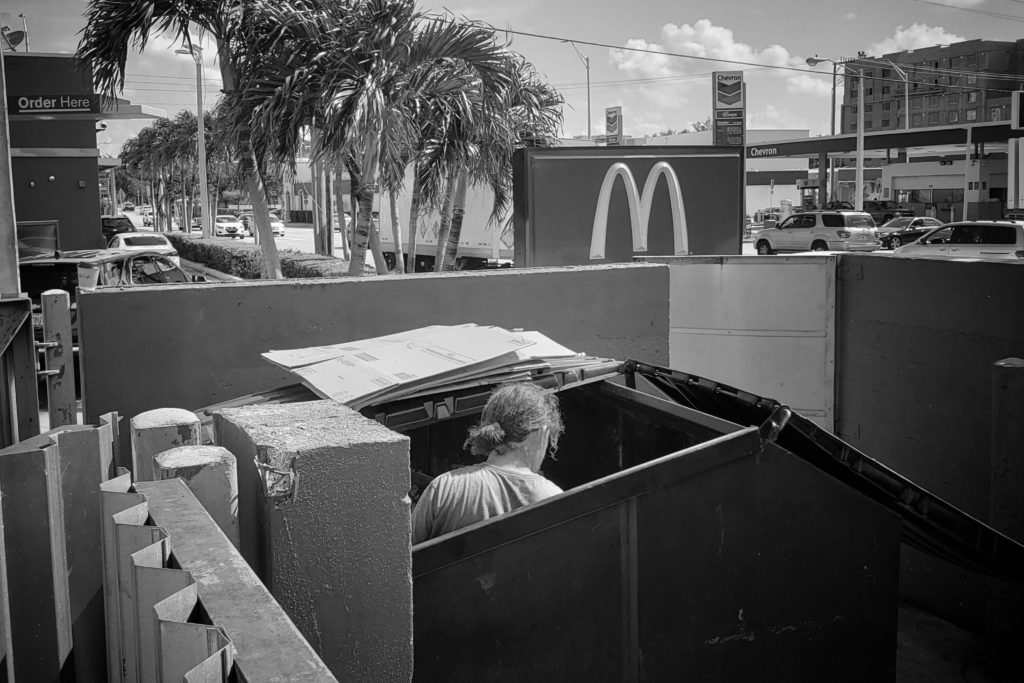 Collecting cardboard makes her happy, it's her job. "In the end," she says, "when you're old, that's what you're looking for: peace of mind."
On her first trip selling boxes, back in the summer of 2012, Micaela made only $20.
"This is peanuts!" she lamented that day. "But then someone explained the trick to me. There were times when I made several trips a day, until, finally, I got the hang of it."
She claims to have made more money with cardboard than when she ran her own coffee shop business.
"How much is 'more money'?" Itempnews Project asked her.
"Well, more money," Micaela replies, hesitant to give a number "More money."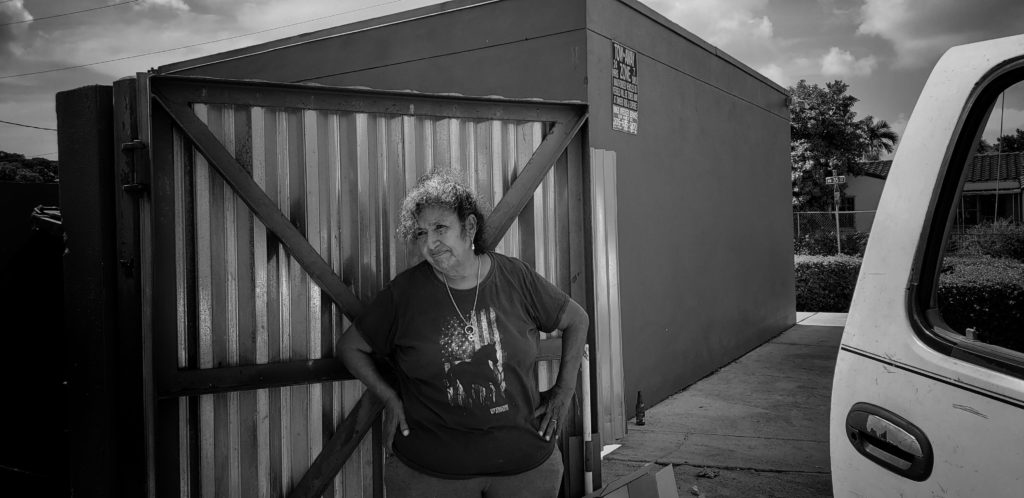 The cardboard business started to expand exponentially in 2010, following a surge in online shopping, the growing use of recycled cardboard for processing, and China's entrepreneurship, which took over the scrap cardboard business. Nevertheless, all of it came to a sharp pause on January 1, 2020.
Luis Vargas, the Miami-Dade County official, claims that in 2011 a ton of recycled cardboard was worth nearly $500, prompting unlicensed collectors to empty out the recycling bins of large supermarkets.
"I remember that some collectors had a truck with big clamps and they would mount the cardboard to carry it more easily. At that time, we worked with the police to put an end to this situation," Vargas noted.
Itempnews reviewed more than 150 pages of Bureau of Labor Statistics and Census Bureau reports on the cardboard industry, in addition to 2015-2020 reports from the Occupational Safety and Health Administration (OSHA), and the Department of Labor. None of them included the "cardboard collector" category.
According to OSHA, manual handling continues to cause a significant number of injuries to workers in the paper and cardboard recycling sector. Some of this include musculoskeletal disorders resulting from awkward or repetitive body postures without breaks.
In fact, Marcelino, the Cuban cardboard collector, often complains of wrist and back pains. He thinks this is due to tearing boxes apart and standing up, which is necessary as he shapes the pile of cardboard in his truck.

"That little pain is annoying, especially at night," he complains.

What matters is to sell
Cardboard collectors are freelancers. They have no boss, no schedule, no seniority. They are required, though, to fully comply with a single unwritten rule: to respect the route of their fellow collectors.
In this way, a kind of collective harmony and camaraderie prevails in this sort of "treasure hunt."

Cardboard collection may appear easy at first glance, but the work takes an adaptable truck or trailer, water to soften the cardboard to make it more flexible to handle, and a lot of willpower.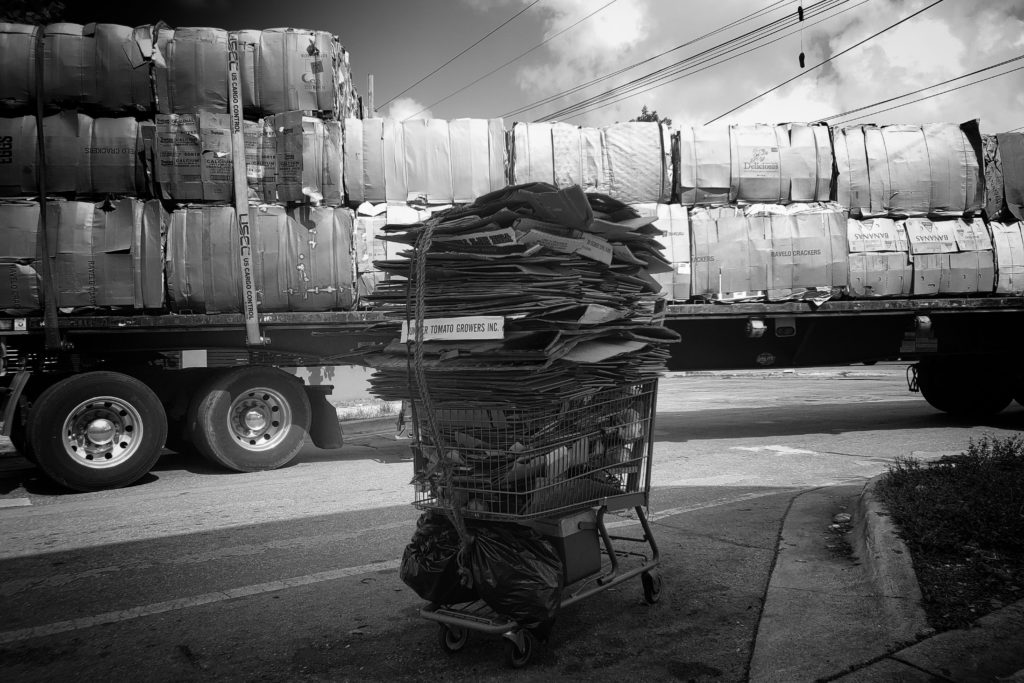 However, George, looking tired at 76, collects cardboard daily with a grocery cart. He moved to Florida from Atlanta some 50 years ago. Every morning, he looks for cardboard that's been discarded by different stores in northeast Miami, a part of the city that is missing its summer paradise charm. All you see are huge warehouses, factories, and damaged streets with huge potholes.

George claims to earn about $6 for each trip to the recycling center. He makes up to half a dozen trips a day.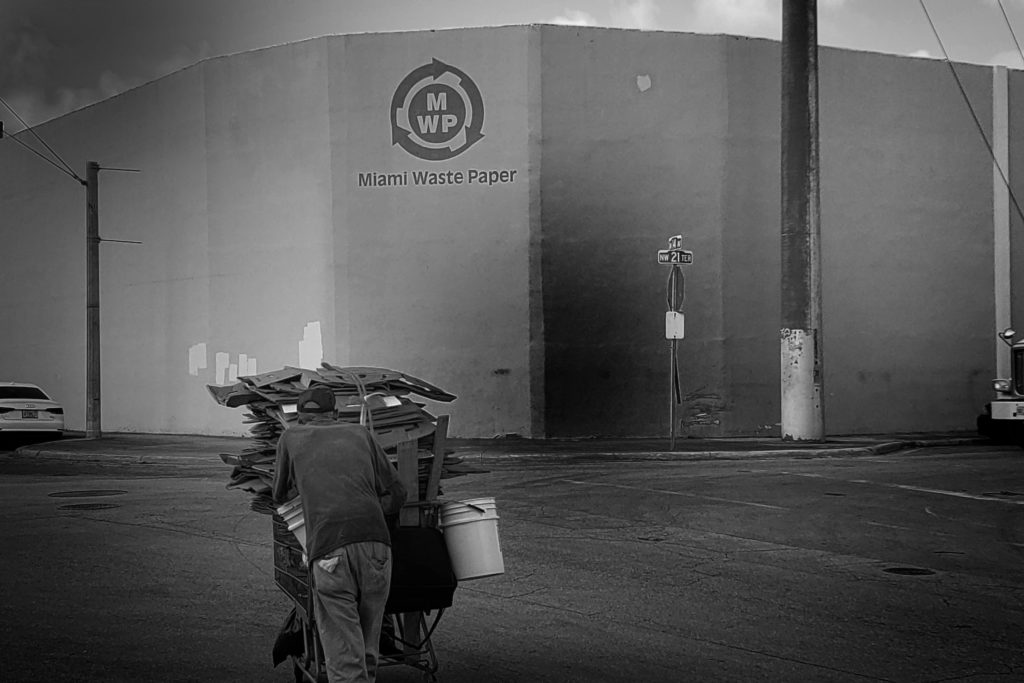 One morning in June, after the kind of fleeting rain that bursts through the city for minutes at a time, George pushed his shopping cart to the Miami Waste Paper recycling plant, one of the oldest in the city. Some of the cardboard collectors said that the place has a bad reputation for paying below value.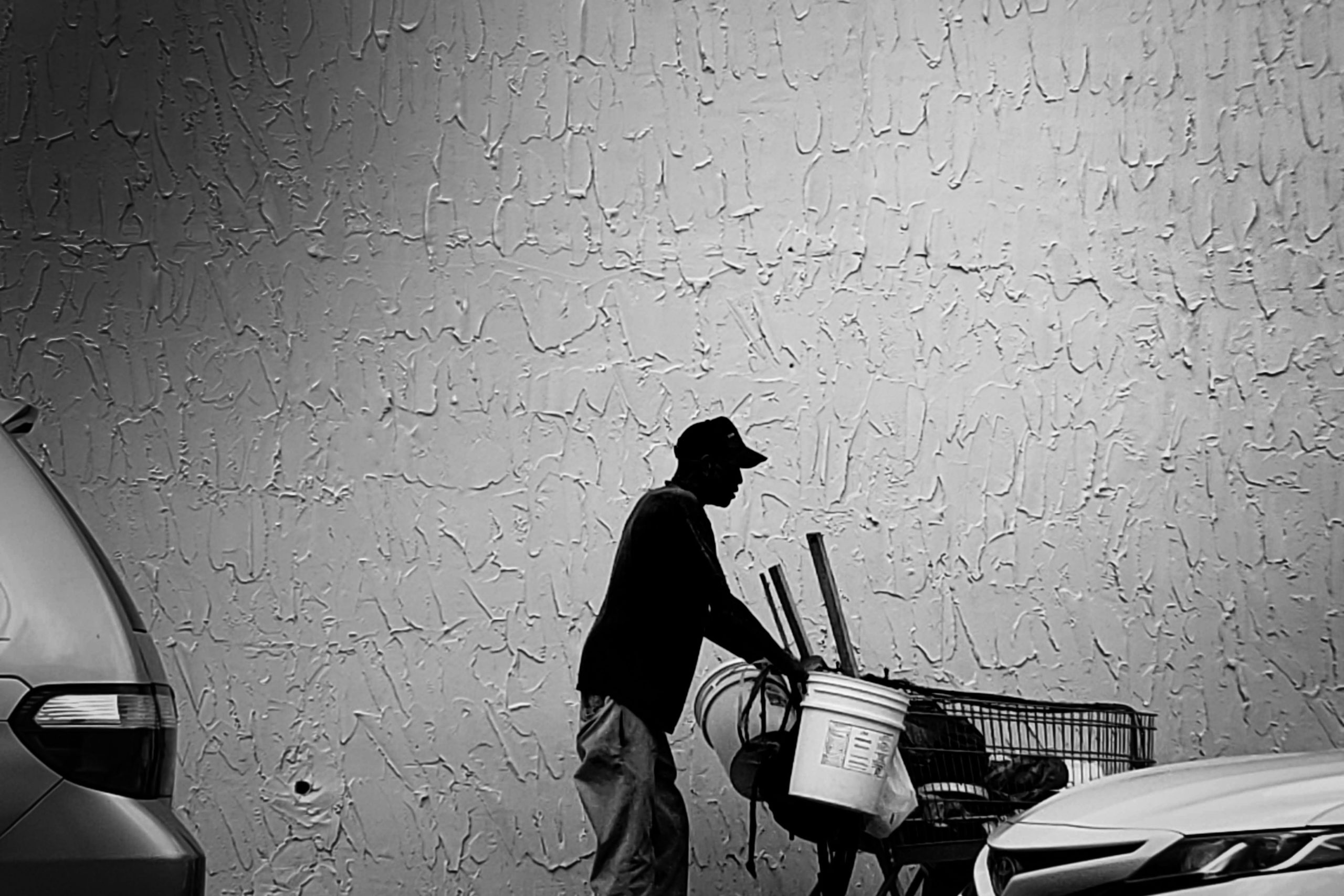 It was George's first load of the day. He looked triumphant after leaving, prepared for the next round, visiting the local stores where people already know him.

A century ago, most products were wrapped in brown paper and heavy wooden boxes. Medicines were stored in glass to avoid humidity, and gifts were covered in fine silks, cloth or paper.
The invention of cardboard dramatically changed people's lives. Based on 2021 data from the American Forest and Paper Association (AF&PA) the cardboard business accounted for $69 billion in profits, with a nationwide recycling rate of 91.4%.
To date, the global price of cardboard is set by China, its largest producer and exporter. In mid-2017, Chinese authorities established strict environmental controls to bar dirty cardboard from the United States. The next year gave way to a partial embargo, with Beijing closing its doors to U.S. scrap cardboard.
"But does it mean that cardboard cannot go to Thailand and cross the border to China? It doesn't mean it can't go to Indonesia and cross the border. So, the Chinese are still getting our material, it just doesn't get to their ports; it goes to other ports and then they track it," admitted Storelli.

All the cardboard collectors knew back in those years was that something was going on in China and that this was the reason for plummeting prices.
"There came a point when the ton dropped to $30. Many of us stopped collecting (cardboard) because it wasn't convenient. Then, businesses started giving us money to collect the boxes because they were overcrowded, desperate," Marcelino remembers. In those years, he began working as a driver for a healthcare provider. Sometime later, he resumed his old trade.
Cardboard collectors across the nation are certain that summer is a good time to sell scrap cardboard, and that business peaks in December.

Paper mills at home and abroad need to buy a lot of cardboard between June and August, and then start producing rolls and boxes between September and October. Time is of the essence. In November, they must send the containers to the manufacturing plants in time for the Christmas shopping spree.
A hunched Mario Amador is using a walker as he remembers the places in south Miami where ivy and weeds reigned. As a cardboard collector in the 1960s, he scoured the few developed sites in the city in search of scrap cartons.
"It was bushland here; it was nothing like this. There was a church over there and one or two other shops along 30th Street," he says, pointing around him as he talks with Micaela in front of a McDonald's recycling bin, where she and her friends are collecting cardboard.
Amador arrived in 1965 from Cuba, in the early years of Fidel Castro's communist dictatorship, and when the exodus of Cubans to Miami became constant, eventually turning the city into a bastion of exile.
"For 100 pounds of scrap cartons, they paid 50 cents. The cheapest gasoline was 32 cents a gallon, so you had to make a profit on everything," he said. Amador completed three trips a day to sell cardboard. Back then, he could earn up to $70 a week, according to his estimates. Today that amount of labor would yield about $660 a week.

"This has always been hard work, always. Your hands hurt, your back hurts, and you sweat like a pig, but I don't want to hear about cardboard anymore," he says bursting out laughing as he moves slowly with his silver walker. On his head rests a baseball cap embroidered with the name of his home country, "Cuba."
---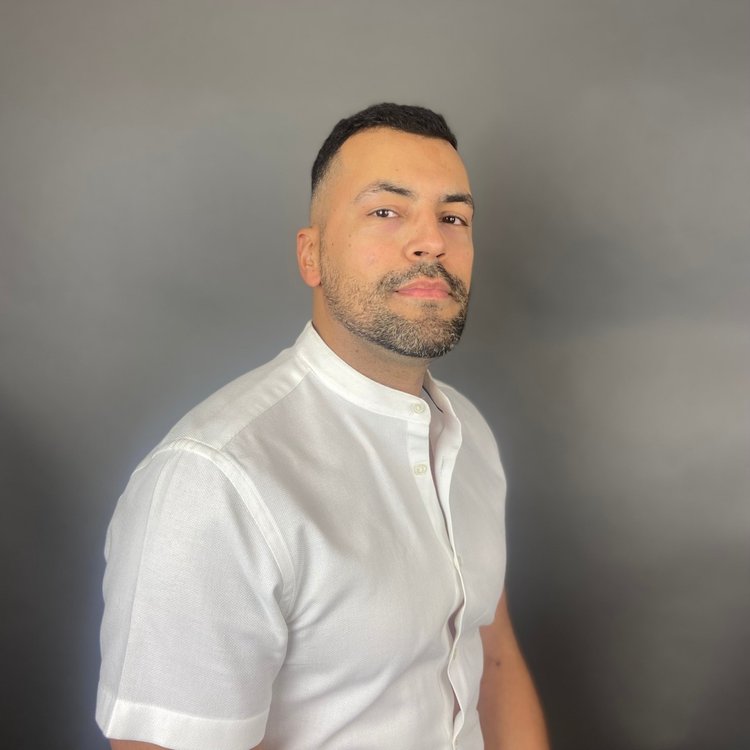 Frank López Ballesteros was a reporter at the international desk at El Universal newspaper in Caracas, Venezuela, where he covered national security issues, particularly anti-terrorism, as well as domestic politics. He has been a freelance investigative journalist at Diario Las Américas in Miami. In 2020 he founded Itempnews, an investigative journalism non-profit organization.
Ruxandra Guidi has been telling non-fiction stories for more than two decades. Her reporting for public radio, magazines and various multidisciplinary media has taken her throughout the United States, the Caribbean, South and Central America, as well as Mexico and the U.S.-Mexico border region.