The compound of eight housing units located in Wellington, Palm Beach, is worth over $3 million, Itempnews found. Still another home was sold in October 2019 for $1.1 million, according to county property records. Former Venezuelan National Treasurer admitted that he received over US$1 billion in bribes.
---
As time went on with Alejandro Andrade, Venezuela's former National Treasurer, behind bars in a US prison for money laundering, Yanoselli Colmenares, his ex-wife, bought and sold almost a dozen homes in Palm Beach County, Florida. There, the Andrade-Colmenares family was very well off, living on hundreds of millions of dollars from Venezuelan corruption, an Itempnews' investigation has found.
The compound of eight housing units located in Wellington, Palm Beach, is worth over $3 million, Itempnews found. Two of these houses are rented for $25,000 a month. Still another home was sold in October 2019 for $1.1 million, according to county property records examined for this story.
---
---
Colmenares, attorney-at-law and a public servant in Venezuela for at least a decade until moving to Florida in 2014, was mentioned by her new ex-husband as a recipient of the money-laundering scheme to which he pleaded guilty in 2017. However, prosecutors did not file charges against her.
The couple got divorced in August 2019 after 29 years of marriage, according to Venezuelan court records. The petition for divorce was filed in Venezuela in February 2018, two months after the former treasurer pleaded guilty on December 22, 2017, in an indictment sealed by the Department of Justice. The case became one of the largest transnational corruption investigations in Florida in recent years.
After the indictment, Andrade admitted to having collected over US$1billion in bribes from Venezuelan media businessman Raúl Gorrín and other accomplices linked to the country's regime, in consideration of using his position as the head of the National Treasury Office to benefit them in forex operations at favorable rates.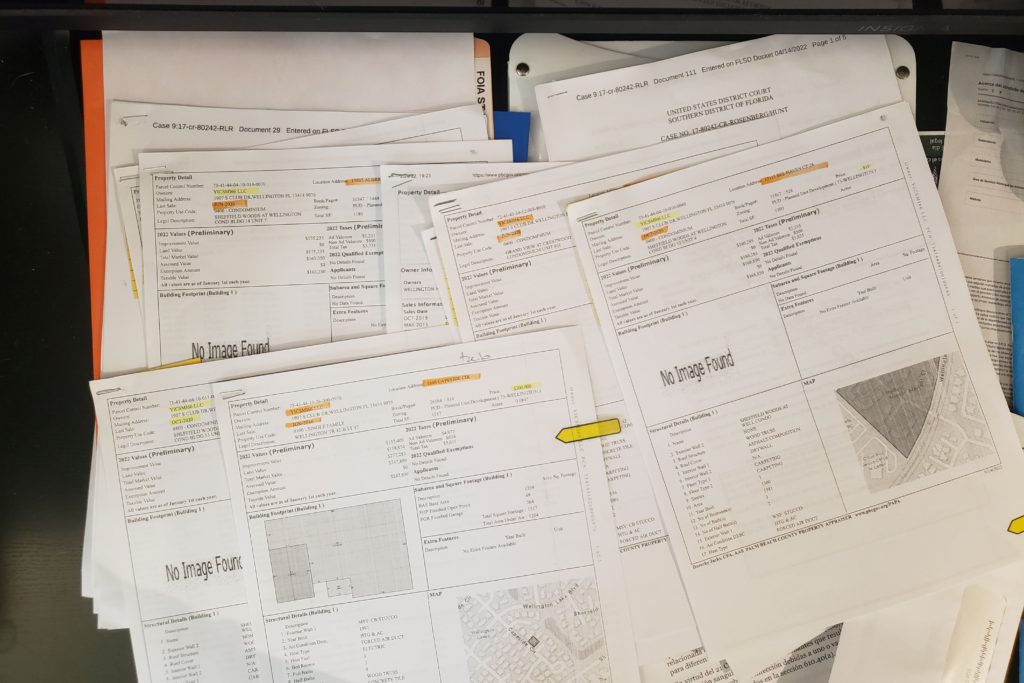 The haul included millions of dollars in cash, plus luxury cars, jewelry, real estate, private jets, and show horses acquired through a sophisticated network that ran from Florida to a dozen companies and 40 accounts at 17 banks in the United States, Switzerland, and Panama during the time of the scheme, prosecutors revealed.
The list of properties owned by Colmenares, reported here for the first time, was retrieved from more than three hundred pages of evidence, including bank accounts, payees, and companies used by the ex-treasurer to receive bribes. Itempnews found that at least one listed company, associated with Andrade's ex-wife, remained active.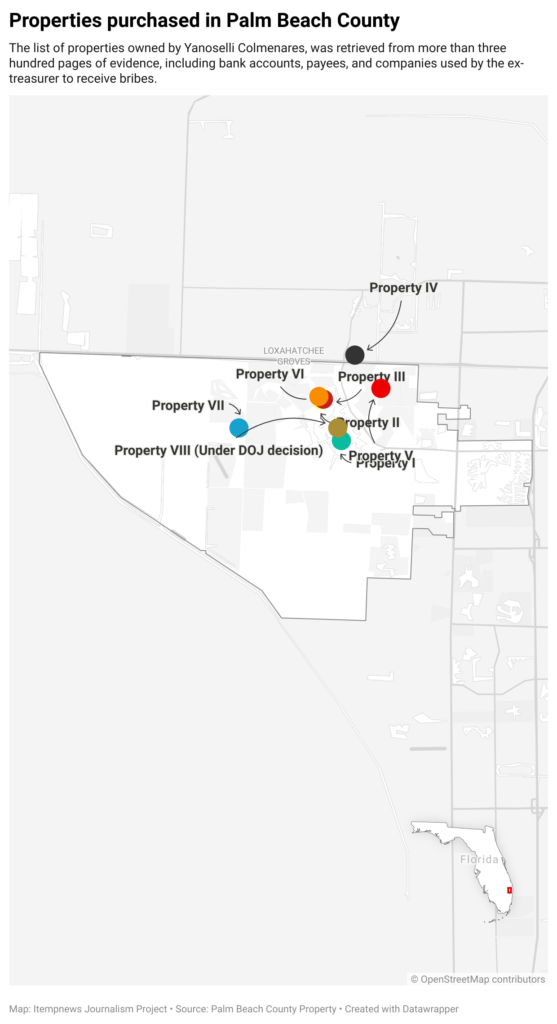 Andrade was sentenced in November 2018 to 10 years in prison by a judge in the Southern District Court of Florida, but he got his sentence reduced by 65% for his cooperation with prosecutors. He was released from prison in February 2022.
Prosecutors continue seeking the recovery of the maximum amount of the stolen money.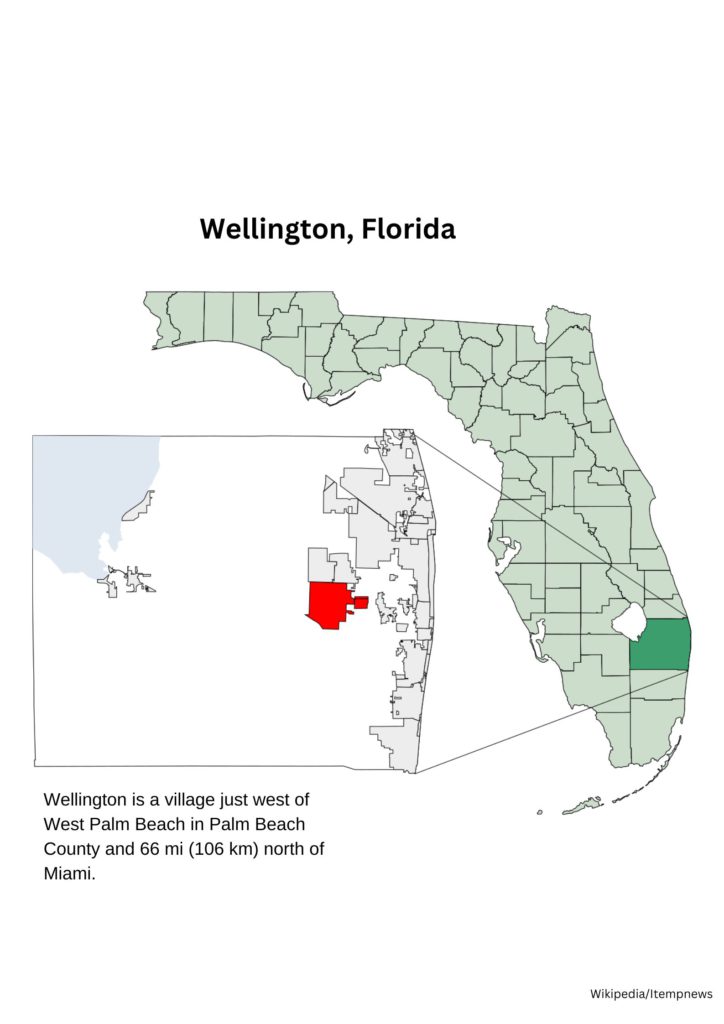 Last September 2022, the US District Court for the Southern District of Florida notified Colmenares of the government's plans to seize a home bought by her in November 2014 with financial aid from her ex-husband's accomplices.
About $100,000 of the total amount of $250,000 used to acquire the property came from bribes; Colmenares and her family funded the rest, according to court documents. The property now costs $500,000.
Based on the ex-treasurer's confession in the "Consent to Forfeiture" statement, the bank accounts, and YICSMI66, LLC, a business registered in Florida in 2014 on behalf of Colmenares, were presumably used to triangulate bribe money.
Also, two personal accounts linked to Andrade's ex-wife at Wells Fargo and Bank of America were allegedly used to absorb money from the scheme, according to the documents. However, in the 2017 plea agreement, Andrade never named his ex-wife as an accomplice.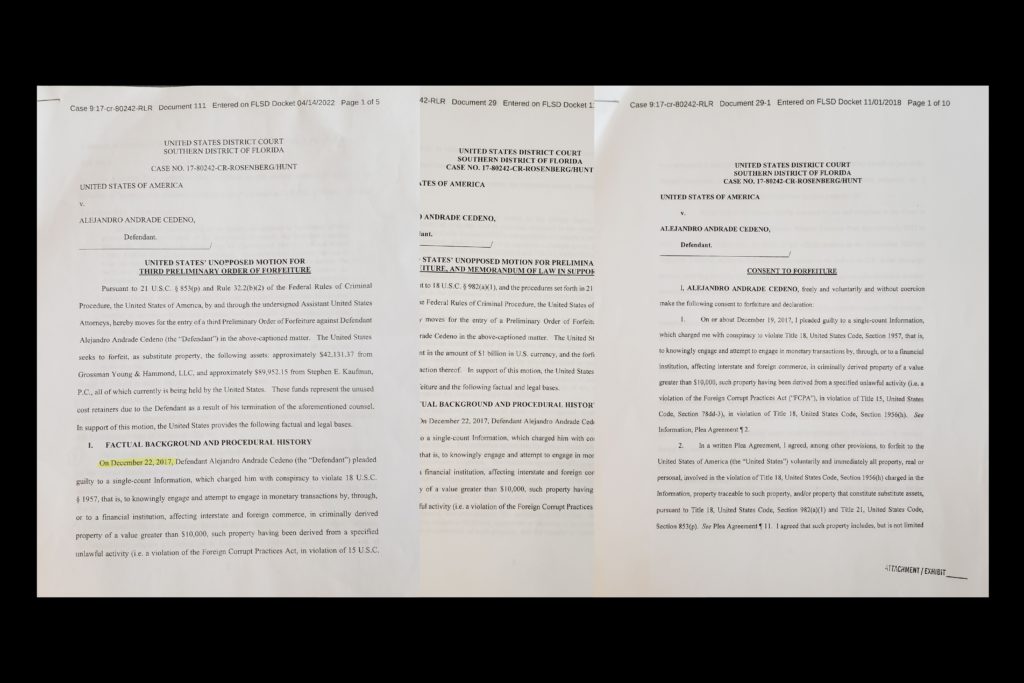 Bank of America and Wells Fargo did not respond to requests for information.
Prosecutors never ordered the dissolution of YICSMI66, LLC, according to the successive preliminary orders of forfeiture, nor did they order the cancellation of the bank accounts associated with the company. This means that the company remained active with Colmenares as the owner, according to Florida Division of Corporations records.
In-depth
Between December 22, 2017, when pleaded guilty, and his subsequent conviction in November 2018, Venezuela's former treasurer handed over at least $300 million in cash and assets.
In addition to this enormous haul, his ex-wife bought properties on her own in Wellington, a city in southern Florida known for its luxurious residences, private airfields, and international horse-riding competitions, the cherry-pick sports of the couple's children.
The origin of the funds used by Colmenares for these operations is unclear, even though her status of Politically Exposed Person (PEP) makes her transactions through the US financial system more rigorous.
A PEP is someone who, through their prominent position or influence, is more susceptible to being involved in bribery or corruption. For the Treasury Department, high-level Venezuelans in public office and their associates should be under special scrutiny.
Colmenares used to be the spouse of a convicted money launderer in the United States, the former Venezuela's National Treasurer. She also served as a mid-ranking public official, thus falling into the category of PEP.
In February 2019, with the former treasurer newly in prison, and Venezuela's economy feeling the effects of mismanagement and corruption, Colmenares purchased for $485 000 a 2,700-square-foot, four-bedroom house in Wellington. The property, currently valued at almost US$1 million, was rented for US$18,000 per month.
Eight months later, in October, Colmenares sold for $1.1 million a property in Wellington that she had bought in March 2015 through YICSMI66, LLC.
Andrade told prosecutors that such home, as well as another one registered by YICSMI66, LLC, also in Wellington, were owned by his wife and family since June 2016 and he might "have an interest" in it by virtue of their marriage. The Department of Justice did not order its seizure. One of these homes is for rent for $7,200 per month.
If Colmenares manages to rent these two properties, she can secure about US$25,000 per month, the equivalent of 1,670 months of Venezuela's minimum wage.
Furthermore, in June-October 2020, at the height of the Coronavirus pandemic, Colmenares bought additional four properties in Wellington through YICSMI66, LLC, in the amount of $620,000. As of September, the housing stock is valued at $1.2 million, according to Zillow, the real estate website.
Itempnews did not disclose the addresses of the properties under investigation but tried to reach out to Mariangelica Domínguez, the Wellington real estate agent who assisted Colmenares.
The Andrade-Colmenares would raise suspicion among those who met with them before and after moving with their children to Wellington, recalls a former neighbor, who asked not to be mentioned by name.
"Their level of wealth, how they dressed, the cars they drove, the horses, everything was pretty weird. The lady (Yanoselli) was always with Louis Vuitton handbags and delicate jewelry. I once got to see her in a charity group of wealthy women."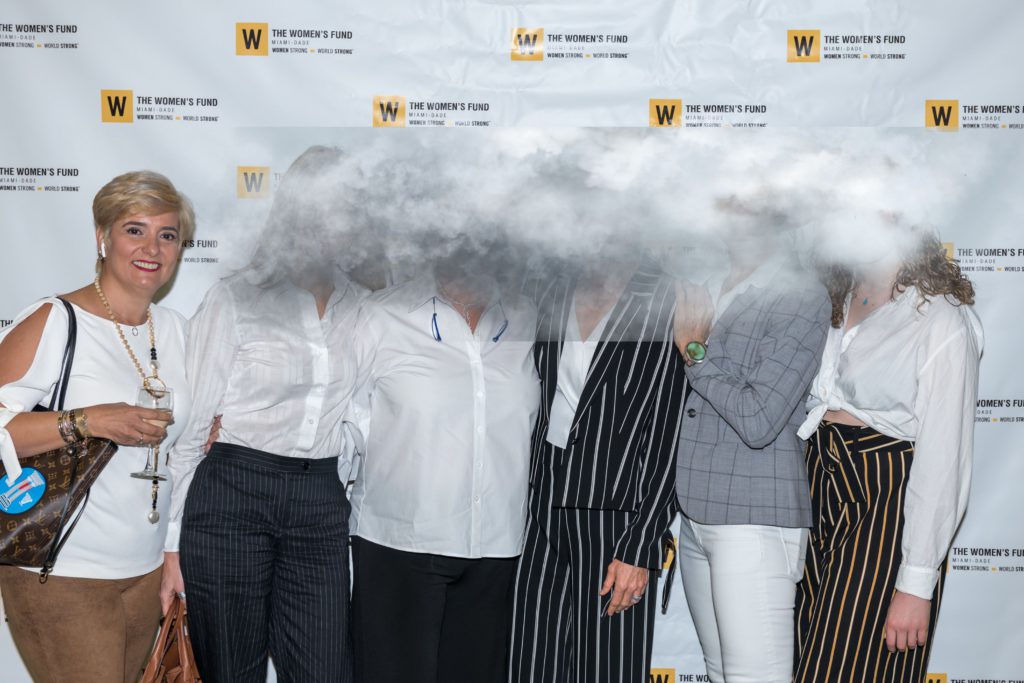 Power games
In Venezuela, Colmenares was a commercial registrar, a public position entrusted by the National Budget Office, at the Ministry of Finance, to register every act of trading companies in two judicial districts.
Itempnews was unable to determine Colmenares' income when she left her position as a register because sworn declarations of assets are not disclosed in Venezuela. The Venezuelan Comptroller General's Office, which is responsible for the records, did not respond to requests for information.
Alejandro Andrade, a career military man, was the first bodyguard of late President Hugo Chávez following his election in 1999. The fiduciary position catapulted Andrade to stardom, up to his appointment in 2007 as National Treasurer of the once oil-rich nation, with no more experience than playing baseball with his boss in their young years.
Approached by Itempnews on multiple occasions during 2022, by phone and e-mail, Michael Diaz, Jr., Andrade's US attorney, declined to answer questions.
Southern District Court of Florida spokesperson Marlene Rodriguez also declined to comment on Itempnews' investigation.
Former prosecutor Jonathan J. Rusch, a law professor at the American University Washington College of Law, explained that while the properties owned by Andrade's ex-wife were purchased between 2019 and 2020 under the same corporate name or accounts associated with the bribery scheme, the timing plays a key role. This is because the purchase occurred after the ex-treasurer's conviction in November 2018.
"If assets subsequently came into Mrs. Andrade's possession or control in 2019 or later, the Department of Justice may not have had a basis for legal action against her with regard to those assets," he said.
Rusch, a federal prosecutor for 26 years in the Fraud Section of the US Department of Justice's Criminal Division, added that "Andrade (and presumably Mrs. Andrade) were aware that Andrade's plea agreement required him to forfeit not only all property involved in the felony to which he pleaded guilty but also substitute assets as of 2017."
No US laws prohibit PEPs from buying property. Financial crime experts regard it as a free hand for money laundering, but virtually few of them question the importance of this initiative to help combat foreign corruption.
The real estate-related Geographic Targeting Order (GTO) issued by the Treasury Department's Financial Crimes Enforcement Network, or FinCEN, just requires that title companies identify the beneficial owner if the property is purchased with a shell company or trust.
For this reason, experts criticize, many corrupt foreign government officials organize companies in the United States directly or through third parties, and they get shamelessly rich.
The GTO only applies to thirteen metropolitan areas nationwide, including Miami-Dade and Palm Beach counties. There, Andrade and his abettors bought expensive properties in the past. If the final buyer is free from US government sanctions, then the sale has the green light. As regards the ex-National Treasurer and his family, they were never included in any Sanctions Lists of the Treasury Department's Office of Foreign Asset Control (OFAC).
---
We continue to investigate the case of the former national treasurer of Venezuela. If you have tips you want to share, write to the following address: Frlopezb@itemnews.org
---
By Frank López Ballesteros
Edition: Carlos Alejandro Rodríguez
Translation editing: Conchita Delgado
Corrections: Angela DeGregorio
Design and photo editing: Itempnews Team